Investor Relations
Business Highlight
Financial Highlights (Consolidated)
This fiscal year marks the second fiscal year of the current midterm management plan. To achieve further growth acceleration, Credit Saison Co., Ltd., as a leading-edge service company, focused on provision of products and services that meet customer needs while improving convenience through a number of efforts including support for mobile payment and other cardless payment solutions, as well as enhanced value-added for Eikyufumetsu ("Never expire") points. At the same time, the Company strove to reinforce collaboration with local companies in Asia ex-Japan to promote its retail finance business in the area.
In September, 2017, Credit Saison launched full-scale operation of "common personnel system for all employees", placing all employees on an open-ended employment basis and consolidating all systems, including wages. In November, 2017, the Company moved over to a new system to improve customer satisfaction by responding in a tailored fashion to customers' needs and to create yet further opportunities for growth.
In January, 2018, Credit Saison introduced two new means of payment, "Saison Origami Pay" and "UC Origami Pay". The two are QR Code-based payment services for smartphones newly offered in cooperation with Origami Inc. To pave the way for expansion of the Company's business in Vietnam further, Credit Saison acquired some shares of Ho Chi Minh City Development Joint Stock Commercial Bank (hereinafter referred to as "HD BANK"), a local bank with which we have been running a retail finance company as a joint venture from 2015, thus strengthening the partnership between us.
On consolidated base, in the first three quarters of fiscal 2017 (April to December 2017), operating revenue increased 5.6% YoY to \220.4 billion, and operating income rose 9.4% YoY to \37.1 billion. Ordinary income increased 18.3% to \51 billion due to an increase of investment income by the equity method. Although Credit Saison posted a gain on sales of investment securities as extraordinary income, net income decreased 5.7% to \34.6 billion due to several reasons including costs required for transfer to a new system posted as a one-time extraordinary loss.
( )3Q Results
Operating Revenue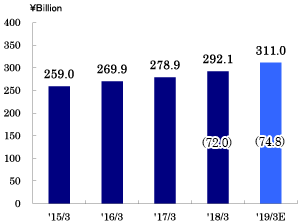 Ordinary Income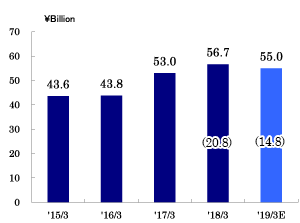 Net Income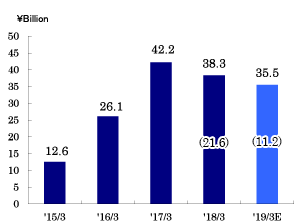 Shareholders' equity ratio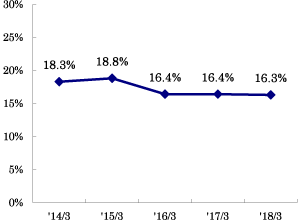 ROE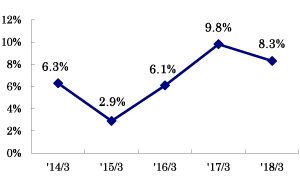 ROA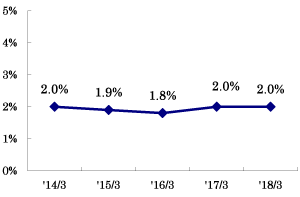 Book-value per share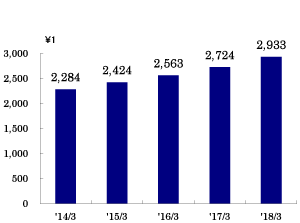 Earnings per share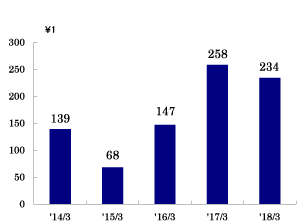 Financial Highlights (Non-consolidated)
Working in cooperation with partner retailers, the Company redoubled membership drives for premium cards, Saison American Express® Card and Mitsui Shopping Park Card Saison. Total card membership increased by 440,000 members from the previous fiscal year-end to 26,900,000 members. In addition to measures to boost the active use of cards and promote use of cards to pay utility fees and taxes, reinforced efforts to encourage Apple Pay registration and use, the Company also encouraged the shift to cashless settlement of operating expenses among corporate customers. As a result of these many efforts, transaction volume on corporate cards rose 15% YoY, overall shopping transaction volume expanded 5.2% YoY to \3,530.8 billion, and shopping revolving balance grew 8.3% from the previous fiscal year-end to reach \412.3 billion.
In overseas operations, HD SAISON Finance Company Ltd., a joint-venture company established in partnership with HD BANK in Vietnam, enjoyed briskly expanding transaction volumes, centered on loans for motorcycles and consumer electronics. The contribution to profit from these operations after consolidation adjustments grew 15.4% YoY to \500 million.
In credit-guarantee operations, the Company offered guarantee products for multi-purpose loans on deeds, which can be used for operating funds. By this means the Company strove to build detailed partnerships with regional financial institutions, such as regional banks and credit unions. The number of partner , 394, while the guarantee balance rose 1.2% from the previous fiscal year-end, to \284.6 billion.
In Flat 35, the Company promoted support for homebuyers home-loan packages such as the Saison Home Assistance Loan, a loan for various expenses incurred when purchasing a house. Loan issuance leapt 28.8% YoY to \134.5 billion, while the balance of loans transferred to JHFA grew 21.0% from the previous fiscal year-end to \544.7 billion. For the Saison Asset Formation Loan, a loan product supporting the purchase of condominiums for investment purposes, the Company strengthened coordination with leading partners. As a result, loan issuance expanded a robust 20.6% YoY to \85.1 billion. Total loan portfolio posted solid growth, surging 34.9% against the previous fiscal year-end to \292.6 billion.
Operating Revenue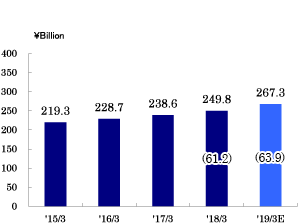 Ordinary Income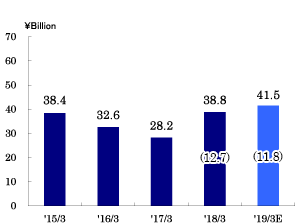 Net Income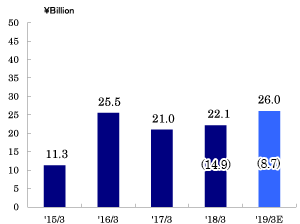 Volume of New Contracts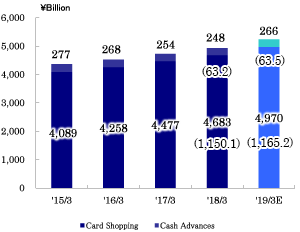 Total Cardholders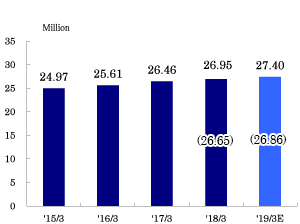 Active Cardholders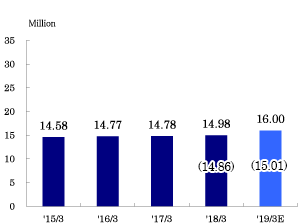 Shareholders' equity ratio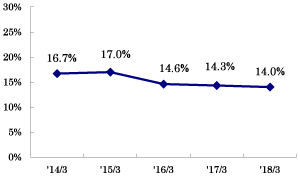 ROE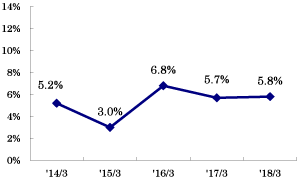 ROA