In order to earn the trust of our stakeholders and grow in a sustainable manner, we are promoting initiatives towards sustainable social development and problem-solving in ways only Credit Saison can.
Basic Approach to ESG Management
Based on our "leading-edge service company" management philosophy, we contribute though the everyday operation of our businesses to resolving problems and move society forward in ways only Credit Saison can by leveraging our unique know-how, management resources, and the experiences of each of our employees. We will create a sustainable society that is even more convenient and prosperous than today's.
Value Co-Creation with Stakeholders

To remain as a company on which society depends, we feel it is important to understand what our stakeholders demand of us and to reflect these demands in our services and business activities. Moreover, from our perspective, our stakeholders are a critical factor in raising corporate value. We thus feel that always sincerely addressing their expectations and feedback is essential to our sustained growth.
SDG Initiatives

Contributing to the SDGs for 2030 is one of the major goals of Credit Saison. Meanwhile, simultaneously creating "Social Value" and "Economic Value" is one of the obligations placed on companies engaged in global business. To fulfill these goals and obligations, we are steadily advancing ESG management. As part of our efforts to promote ESG management, we are addressing social and environmental issues from the perspective of the "Five Ps" to realize "inclusiveness," which is an aim of the SDGs.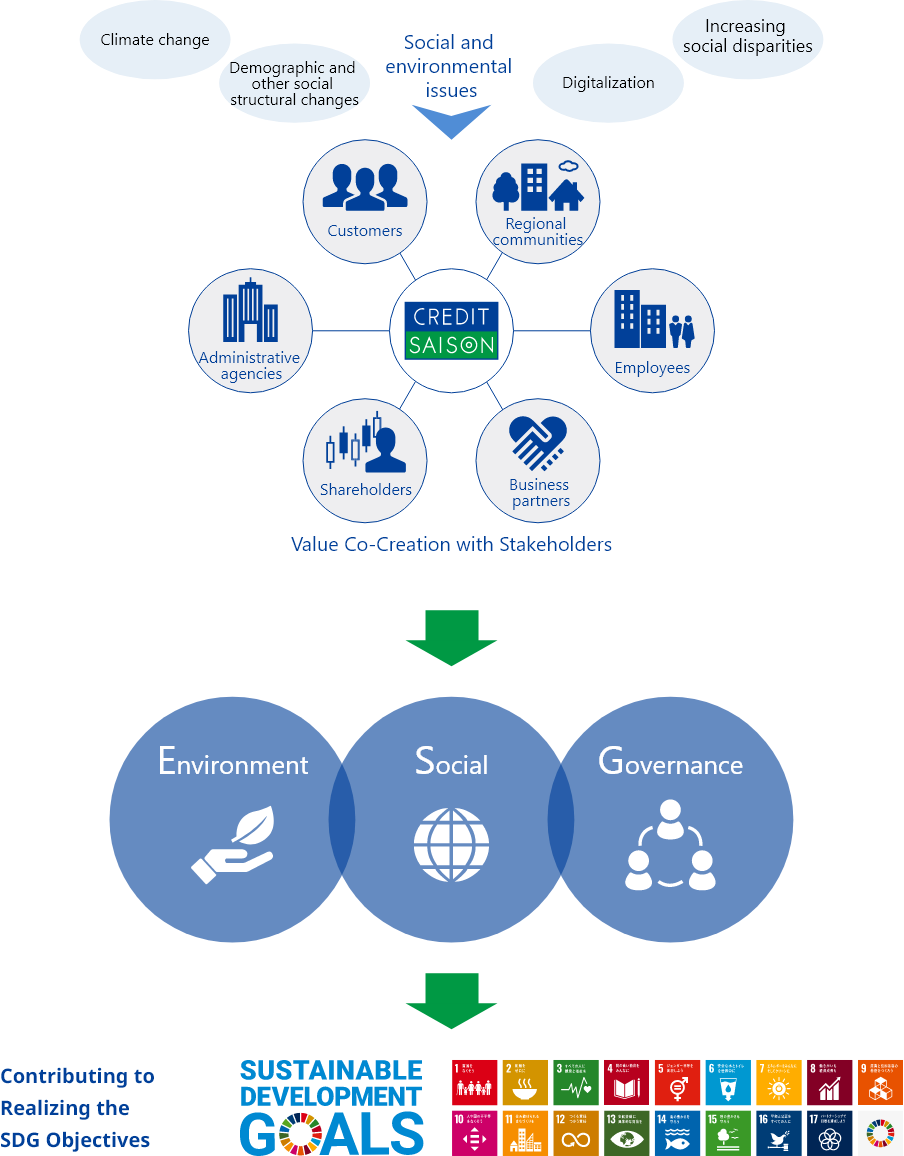 Initiatives for the achievement of SDGs
Business activities
Main activities

Related SDGs

Environment

Initiatives on environment conservation

・Operation of Akagi Nature Park
・Reduction in paper consumption/CO2 emissions
・Using environment friendly materials

Social

Contributions to society

・Achieving a Safe, Secure and Convenient Cashless Society
・Point Exchange and Donations by Card
・Education for the Next Generation and Financial Education
・Supporting Sports and Cultural Activities
・Support Asian economic development via financial services
・Partnership agreements with local governments
・Realization of diversity & inclusion
・Work style reform

Governance

Initiatives to Strengthen Governance

・Building internal control systems
・Reinforcement of business management system
・Ensuring diversity and the empowerment of women