Our concept of CSR is not limited simply to regulatory compliance and the creation of profit. We believe that CSR also means responding to the needs of citizens, communities and society, and developing business methods and activities that meet and surpass these needs.
Related SDGs
Achieving a Safe, Secure and Convenient Cashless Society
Building a diverse payment scheme
We are working to realize a diverse range of payment platforms, with the aim of raising customers' convenience as we move towards a cashless society.In addition to issuing credit cards, prepaid cards, and other plastic cards, we have been working on providing next-generation payment schemes in recent years. They include smart phone payments, and QR code payments linked to partner apps.
Appropriate Management of Personal Information
InformationWe manage personal information in accordance with laws, regulations and other requirements, including guidelines and industry rules. We have established internal corporate rules, and give our employees training in ethics. Our efforts to raise awareness of information management include the use of the "personal information manager" qualification established by the Japan Consumer Credit Association, a qualification that is now basically compulsory for employees who handle personal information at Credit Saison. In May 2006, Credit Saison was authorized to use the PrivacyMark, a certification given to businesses with appropriate systems for handling personal information, and we continue our efforts to maintain and enhance the protection level of personal information.
Preventing Excessive Indebtedness
We recognize that the most important issue is to pursue a balance between enriching our customers' lives while contributing to economic progress on the one hand, and preventing people becoming multiple debtors through overuse. Therefore, we manage personal information appropriately and practice cautious lending and post-lending follow-up, to prevent people becoming multiple debtors.
Information/cyber security
At Credit Saison, we strive to maintain stable operation of its web systems that handle important customer information, such as credit card applications and Net Answer. We use TLS/SSL (Transport Layer Security/Secure Socket Layer) encryption technology to protect the personal information of our customers. Along with striving to maintain stable system operations on a daily basis, we have formulated contingency plans such as securing backups of important systems to prepare for unforeseen events. In addition, for the purpose of detecting and improving system vulnerabilities, the IT Strategy Department takes a central role in conducting regular system risk assessments and, as a measure against cyber attacks such as targeted attack emails, the department takes measures such as fortifying firewalls and raising employee security awareness through simulated email drills to minimize damage in the unlikely event of an infection.
Improving the accuracy of unauthorized use detection
Company initiatives
We are building a stronger security infrastructure by combining our know-how and experience in credit card screening, which we have cultivated over the past 70 years since our founding, with new systems developed in collaboration with partner companies.
Specifically, we are endeavoring to eliminate fraud in cashless payments from three directions: automation of fraud detection using AI, introduction of anti-spoofing technology, and detection of fraudulent devices. Through these efforts, we provide our customers with a safe and secure payment environment and contribute to the adoption of timely and contactless payment methods in this new era.
Secure payment environment in the cashless era
1 Automating fraud detection with AI
System for detecting unauthorized card use
The system uses AI (machine learning)-based fraud risk scoring model to identify and analyze transactions with a high risk of fraud and to prevent fraudulent use by third parties. Automatic learning of increasingly sophisticated fraud methods and early detection of the latest trends enable quick and highly accurate detection of unauthorized credit card use from a huge amount of transaction data.
2 Fraud prevention by means of device identification technology
Rogue device detection
This service detects fraudulent activities on the Internet by using technology that identifies every device used by the customer. Detecting and preventing fraudulent credit card applications and identity-theft shopping on the Internet eliminates anxiety about Internet transactions and enables the provision of safe and secure Internet services.
3 Face recognition technology to prevent identity theft
eKYC
LIQUID eKYC, a new identity verification service provided by Liquid Inc., which possesses biometric identity verification technology, allows customers to complete the sign-up process online by simply taking a picture of their identity documents and face image, etc. By combining this service with "Saison Connect", which links Saison's card information through an API, customers can use their credit card immediately with their smartphone (mobile payments) after completing the screening process without waiting to receive the plastic card.
Providing financial infrastructure in Asia
Aiming to contribute to regional economic development by achieving financial inclusion in emerging countries focused on Asia, we provide financial services through partnership with local companies, corporate venture capital business, impact investing business and more.
Point Exchange and Donations by Card
We are participating in activities with high social significance and providing support for natural disaster recovery through Eikyufumetsu points and donations through Saison Card & UC Card payments.
Point Exchange and Donations by Card(one example)
2019 Typhoon No. 19 Charity Fund

11.02million yen

Shuri Castle Reconstruction Support Fun

8.53million Yen

July 2020 Heavy Rain Fund

9.01million yen
Education for the Next-Generation and Financial Education
We take steps to educate the next generation and give them financial education by targeting young people across a number of age groups, from middle-school to university students. Our main activity for this purpose is School Visit: SAISON TEACHER, in which our employees visit schools and give classes on finance to help students deepen their financial knowledge. The primary purpose of this program is to help students, mainly middle- and high-school students, grow into independent consumers.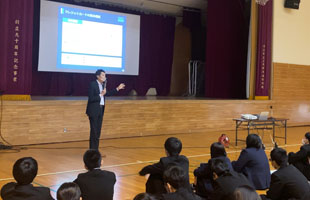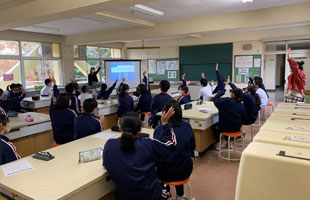 Supporting Sports and Cultural Activities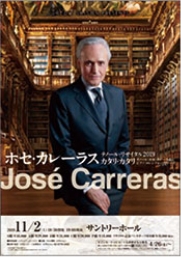 We support the activities of the Japanese national soccer teams and also host youth programs. Credit Saison is also a sponsor of performances in Japan by José Carreras, one of the members of The Three Tenors, and makes donations to and supports the activities of the José Carreras Leukaemia Foundation.
Partnership agreements with local governments
Credit Saison concluded a partnership agreement on disaster prevention and education with Yokohama City and set up the Bosai Café to educate people about how to prevent and mitigate disasters. As part of this program, we make donations to Yokohama City's disaster awareness program and to hold disaster prevention workshops. We also signed a partnership agreement on health promotion with Fukushima Prefecture and in addition to supporting activities that promote people's health, we also make donations to the prefecture's animal welfare center.
Also, we have also signed a comprehensive agreement on cooperation with Kanagawa Prefecture and are working together to revitalize the local community and solve social issues using Eikyufumetsu Points.
* Donations can be made to any of these programs with Eikyufumetsu Points.
* All photos are for representation purposes only.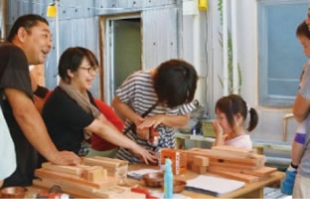 Yokohama City disaster prevention and mitigation workshop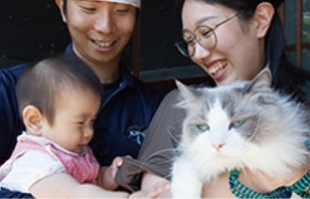 Donating to the Fukushima Prefecture Animal Welfare Center
Incorporating advanced technologies and ideas

In Japan
Saison Ventures Co., Ltd. (incorporated June 2015), the first corporate venture capital firm in Japan's credit card industry, is engaged in the development of new financial services and business collaboration through open innovation with Japanese venture companies with advanced and innovative technologies in a wide range of areas such as FinTech, IoT, and AI.
■Investment in 35 Japanese venture companies in a variety of areas including payment, commerce, sharing, and new technologies (as of December 31, 2020)

Outside Japan
Saison Capital Pte. Ltd. (established June 2019), a provider of investments and loans mainly to early-stage companies outside Japan, is expanding its corporate venture capital business that provides investments and loans to promising startups not only in Asia but also in Africa, South America, and other parts of the world by collaborating with businesses already established in those markets and quickly incorporating innovative business models.
Human rights initiatives
Ending discrimination
We do not permit any discrimination or human rights violations based on gender, age, nationality, background, etc., and publicly announce that we will act fairly as standards of conduct.
Standards promotion system
To ensure compliance with laws, regulations, and internal rules in the execution of duties, the Compliance Committee and Corporate Risk Management Department play a central role in thoroughly familiarizing employees with the various regulations and compliance systems through regular internal education. In the event that a violation pertaining to laws, regulations, the Articles of Incorporation, or internal rules is discovered, the Compliance Committee reports the case to the Board of Directors and the Board of Corporate Auditors without delay in order to quickly resolve the violation.
In addition, our Audit Office, in collaboration with the audit departments of subsidiaries, conducts audits as necessary, monitors the appropriateness of business execution, and has established an "intra-group hotline" to serve as a contact point for reporting cases of violations of laws, regulations, or internal rules that are discovered. The whistleblower is protected, and efforts are made to resolve such violations as soon as possible and to ensure the appropriateness of the subsidiary's business activities.
Initiatives to improve the quality of customer service
Provision of information in sign language
We have established a contact point at our Information Center where customers with hearing or speech impairments can ask about various procedures or make other inquiries via a video phone. The video phone enables smooth communication and timely guidance.
Initiatives for universal manners and manners toward LGBT
We encourage employees to take the Universal Manner Test*1 to learn the "mindset" and "actions" that enable them to act from the perspective of someone different from themselves, such as an elderly person or a person with a disability. We also participate in LGBT*2 manner training*3, where we learn about the concerns and anxieties of the LGBT community, and learn specific knowledge and ways of dealing with the community in order to provide support.
*1

The Universal Manners Test is organized by the Universal Manners Association of Japan, and is a certification test for systematically learning and acquiring the "mindset" and "actions" needed to deal with diverse people, including the elderly and people with disabilities.

*2

LGBT is a general term for sexual minorities and is an acronym for [L] lesbian (female homosexual), [G] gay (male homosexual), [B] bisexual, and [T] transgender (a person who lives or wants to live a gender different from the one assigned at birth).

*3

LGBT Manners Training" is sponsored by the Japan Universal Manners Association, and provides specific knowledge and ways to deal with the concerns and anxieties that the LGBT community tend to have, as well as points that can be taken into consideration and ways to provide casual support in the workplace and in services.